just wanted to show some pics of our new apartment (the one where i will also live in come december, syempre di pa lang ngayon.) :-p Anyways just to let you see how weeks of preps have made the place homey already, and definitely a good place to live in already.
***
The Sala aka dining place. No sofa yet since we don't have any funds for that, but hopefully after the wedding we will.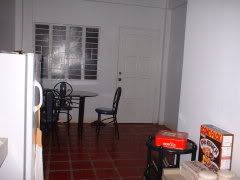 The kitchen. My favorite place. Tomorrow I plan to cook some pasta for dinner. Tiring to cook but its well worth it to get some compliments from my h2b.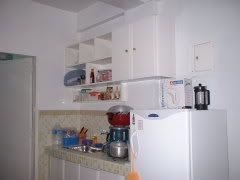 The room: showcasing the airconditioner. hahahaha.... Tabs worked on insulating the aircon hole which was waaay too large. I think he really did pretty well. The shoe rack becomes additional shelf space, but mind you when I move in, I get the three layers there and tabs gets 1. bwahahahaha....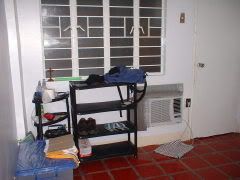 The bed (mattress). Just as we cannot yet afford the sofa, so with the bed frame. And since its obvious that having a bed is just a plus, we agreed to just buy the mattress in the meantime and the bed later when, again, we have the money.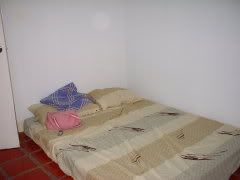 *****
Its as tiring as it is fulfilling to finally have a place to live in after the wedding. And while I really love to do the preps for the wedding, going to the apartment to cook and do house chores have become a habit as well. Yay for the additional expenses incurred, but seeing tabs more often has been rewarding enough. Makes me realize all the more just how much I love him and how much I look forward to sharing my life with him. Its like being head over heels in love all over again. :-) pardon the mushiness, but this is my blog after all, and i have all the right to gush over my newly found happiness. :-)
*****
Well, having seen tabs live all by himself there and eventually sharing the life together. You tend to see small things you learn from each other as really big steps. For instance, I've known myself to be really neat, a bit on the OC side, but not to the point that I fight with tabs over some kalat. :-) I acknowledge the fact that tabs grew up in a terribly disorganized environment, and I've come to accept that it will be my role to see to it that the house won't be in disarray. Tabs, for his part, is not the type to tear apart the place, and I'm not about to let him. hehehe... ang gulo ko. What I'm driving at is that I've been an OC house cleaner. I sweep the floor everytime I'm there, wash all the dishes (if any), wash the sink, mop the bathroom floor so its dry. Things like that.
Tabs naman sings pala. hehehe.... never seen him do that. I think he likes the fact that I visit him often, except that I won't be sleeping there, he's happy someone's there to take care of him sometimes.
Small things: "Waaahhhh, ang konti ng palaman!" - his text to me when the sandwich I made him for lunch didn't exactly have as much palaman as he anticipated. hehehe....
I love this husband of mine. :-)